At our head office plant, we have a STARTECHNO Lab & Application Center. Since it is equipped with the latest robots and every imaginable application, it functions as a general robotics center where we can collaborate with customers in developing and testing one-off equipment and systems, as well as educate and train them in teaching and other operations. We have prepared theme-specific applications for processing, assembly, transfer, etc. Moreover, we offer training classes of the Startechno Robot School taught by two instructors.
For more information, contact us.
---
STARTECHNO 3C System - Cutting
---
Ultrasonic Cutter (X-Y table cutter)
■ Use
2-dimensional bonding of prepregs, resins and rubbers
■ Configuration
STARTECHNO original system incorporating an Sonotec ultrasonic transmitter (SC-2600MIII)
■ Features
Accurately, powerfully, quickly and freely cuts industrial sheet. Applicable for both mass-production and flexible production of small lot and wide product variety.
■ Applicable products
CFRP pre-pregs, plastic sheet, rubber sheet, etc.
---
STARTECHNO 3C System - Connecting
---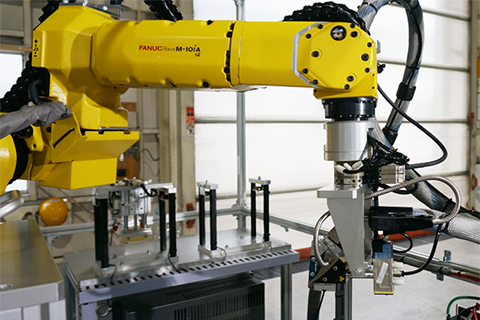 3D bonding robot
■ Use
3-dimensional coating of hot melts and adhesives
■ Configuration
M10iA robot (Fanuc) mounted with a hot melt dispenser (Nordson)
■ Features
The robot coats hot melt at high speed and with a high degree of precision. Proposed as an alternative to adhesives and two-sided tape that require organic solvent.
■ Applicable products
Bonding of plastic parts, plastic and metal, and metal parts
High-precision hot melt coating system
■ Use
High-precision 2-dimensional coating of hot melts and adhesives
■ Configuration
STARTECHNO original system mounted with a hot melt dispenser (Nordson)
■ Features
The robot coats hot melt at high speed and with a high degree of precision. Proposed as an alternative to adhesives and two-sided tape that require organic solvent.
■ Applicable products
Bonding of plastic parts, fabric and plastic, plastic and metal
---
STARTECHNO 3C System - Conveyoring
---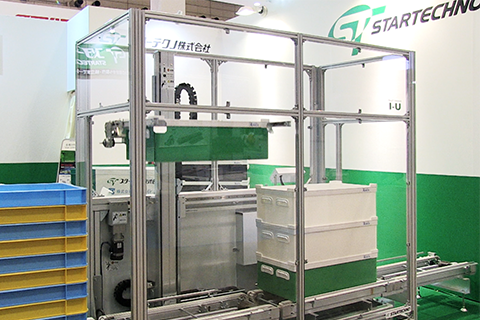 Pallet Changer
■ Use
Stacking of pallets (containers)
■ Configuration
STARTECHNO original system (type I-U)
■ Features
Used to stack plastic pallets (containers). Universal specification that easily adapts to pallets (containers) of differing sizes.
■ Applicable products
Palletizing, depalletizing and stacking of plastic pallets (containers)
Pallet Changer
■ Use
Stacking of pallets (containers)
■ Configuration
STARTECHNO original system (type CT)
■ Features
Simplified transfer flows and smaller footprint by using a 2-level (upper/lower) circulating system with same-direction loading/unloading. Extended unmanned operation is possible by selecting the long-term stock mode.
■ Applicable products
Palletizing, depalletizing and stacking of plastic pallets (containers)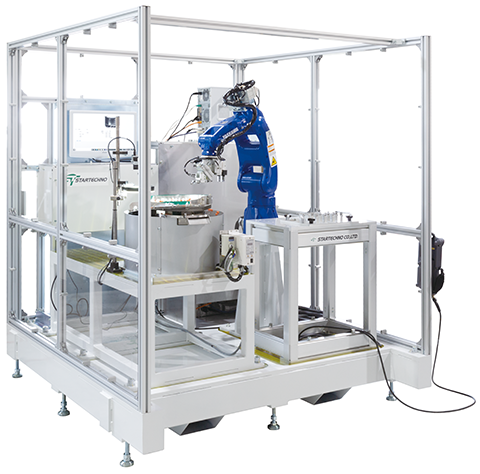 Vision Feeder
■ Use
Parts sorting pickup
■ Configuration
Articulated robot, image judgment system and automatic transfer system
■ Features
The Vision Feeder uses a high-performance vision unit to pick up mixed types of parts by sorting out the types and non-defective parts. It contributes to labor saving and space saving in parts feeding.
■ Applicable products
Parts such as instrument panel clips